The CD/DVD Recovery module is designed specifically to recover lost and deleted files from damaged, scratched or defective CD and DVD disks. This module can recover files recorded by common CD/DVD writing software. It supports data recovery from all CD and DVD disk types (CD-ROM, CD-R, CD-RW, DVD-ROM, DVD-R, and DVD-RW), and from quick formatted RW disks. It also supports disk recorded with UDF packet writing software: DirectCD, InCD, packetCD. The recovery wizard allows you to easily scan and recover files.
Unlike other CD recovery software, the CD/DVD Recovery module is easy to use, featuring a step-by-step interface that will guide you through several stages of data recovery. All you have to do is click the "Open" or "Full Scan" button. And then wait until the scan is completed. You will get your deleted or lost files back in minutes.
Currently, the CD/DVD Recovery module supports the following file systems: ISO9660, Joliet and UDF.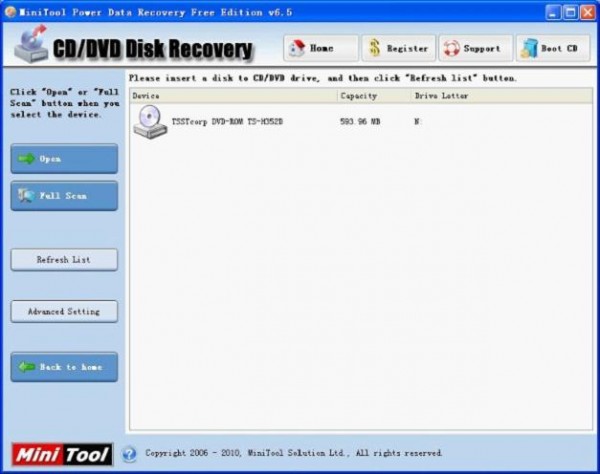 The "Open" function could open the CD/DVD disk directly. And all the tracks on the disk and file system will be listed by this module. This function could help you to recover files from multi-session disk, and scratched or defective CD and DVD disks.
The "Full Scan" function could full scan the disk to help you recover damaged, formatted and uninitialized disk.
CD/DVD File System
Data CD and DVD discs contain one or more File Systems. The File System describes where and how on the media the files and folders are located. In most cases the different File Systems point to the same files and the reason for the different File Systems exists to support as many different Operating Systems as possible. In some cases however, File Systems DO differ and one File System may for instance contain a driver to be able to read the other File System. The CD/DVD Recovery module scans for all File Systems it knows and will show them all.
This allows the user to select the File System he/she requires. This also provides alternative ways in case one File-System is corrupted but the other one is not! This is a very powerful feature of this recovery module in its quest to be able to recover 'all' data!