This module is designed for data recovery from Hard Disk including formatted partition, crashed file system without drive letters. And it could provide more power to recover deleted files/folders when Undelete Recovery module cannot help you.
First of all, you will see a list of all the partitions found from all your Hard Disk. All of your partitions are arrayed by the drive letters. If the partitions do not have drive letters, they will be also listed at the hindmost.
For each one listed here, the CD Recovery displays a number of statistics, including the volume label, the type of file system, the capacity, and its information.
If the partitions are not found on the list, please choose the "Lost Partition Recovery".
Once you have identified the partition from which you want to recover data, select the partition and then press "Full Scan" to begin full scanning of the device.
And also, you could try to press "Open" to open the partition directly. This function could recognize some of partitions that cannot be identified by Windows.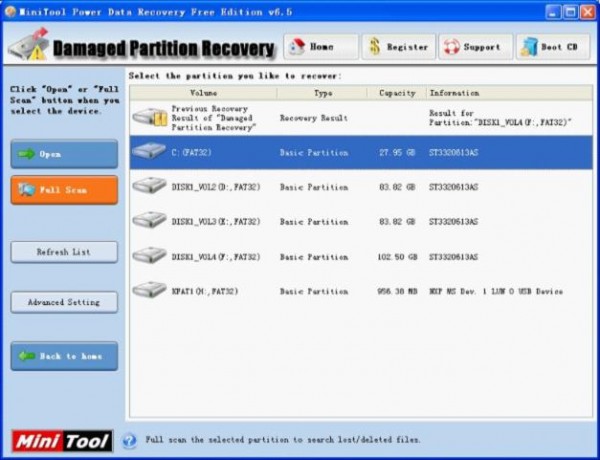 Select Recognized Partition Page
The Full Scan function will scan the selected partition, collect and analyze every byte on the partition, then show you a list of partitions possibly on it.
For each one listed here, the CD Recovery displays a number of statistics, including the file system of partition, a suggestion on its data quality, its size in GB/MB, its system option and amount of matching files and folders.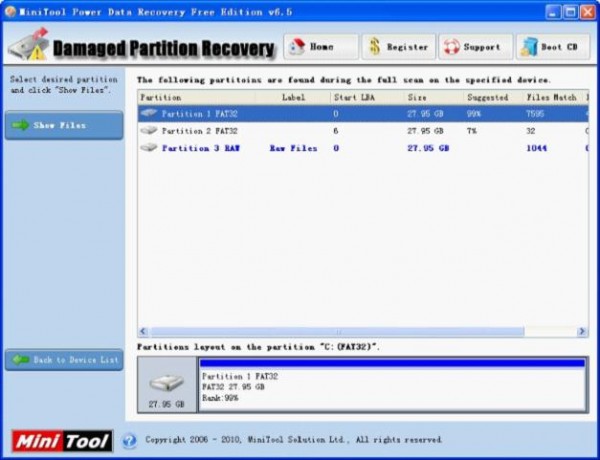 Further more, you will see a blue partition. In general, there is only one blue partition. That means this partition is current selected partition.
To make sure your data recovery can be as easy as possible, we have tried to make CD Recovery as intuitive as possible.
The CD Recovery will permit you to choose only one partition at most to recover the data. And then, press "Show Files" button. The CD Recovery will launch the "Building Virtual File System" procedure to search the files. You will see file/folder tree soon.
Go to "Working with Found Data" section of this Help manual for further steps.