This module is designed for data recovery from Hard Disk including crashed file system, mistakenly deleted partitions, hidden partitions, drives with failed operating/file system, and drives suffered from virus.
When you select this recovery module, you will see a list of physical devices that are connected to Host Computer.
If your device is not found on the list, please click "Refresh List" button to make the device seen in the list or verify whether the device is properly connected or there are any hardware problems with the device.
Otherwise you may choose the device from which you want to recover data and then click "Recover" to start searching partitions on it. After the Quick Partition Scanning process is completed, the CD Recovery workspace will display a Partition List Page.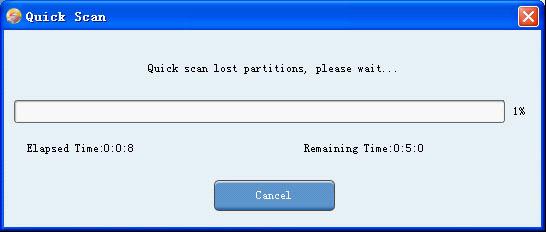 If the Quick Partition Scanning can not find any partitions or if you press "Cancel" in Quick Partition Scanning, it will transfer to the Full Scanning to search partitions automatically.
And also, Lost Partition Recovery module could quickly detect the lost partitions on your hard disk, when you launch this recovery module. This function, will save your plenty of time to scan your lost partitions. When you select the lost partition, and click "Recover" button, The CD Recovery will launch the "Building Virtual File System" procedure to search the files. You will see file/folder tree soon.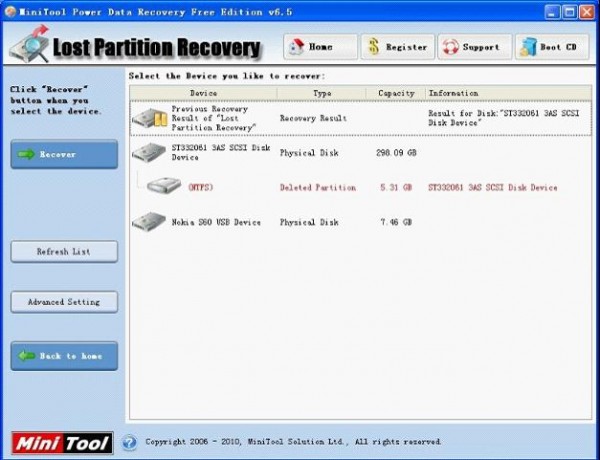 Partition List Page
In fact, In the Partition List Page, all the partitions listed here are in an abnormal state and usually you cannot see them in the Windows Explorer as well as Disk Management Console. That's why this recovery module will be named as "Lost Partition Recovery". If you have recognized the partition you want to recover data from, select the partition and then press "Show Files" to begin "Building Virtual File System". Then the number of the found objects will be dynamically updated with the searching process. After it is finished, the program will list all found files in the File List Page.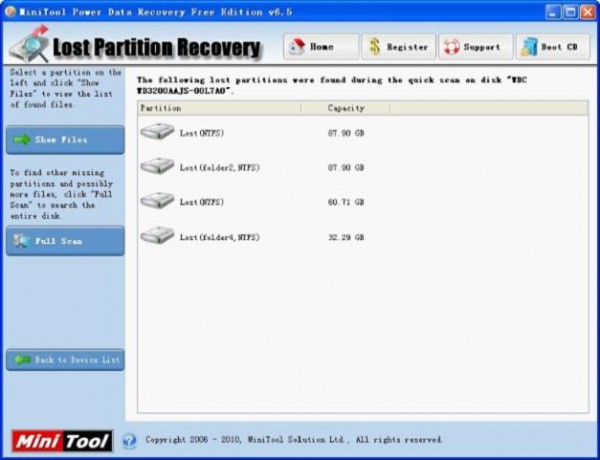 If your lost partition can not be searched by quick scan function, please click "Full Scan" button to full scan the disk to find other missing partitions and possibly more files. After the exhaustive scanning, every possibly existed partition will be detected and listed out.
Select Recognized Partition Page
The Full Scan function will scan the whole device, collect and analyze every byte on the device, and then you will be shown a list of partitions possibly on it.
For each one listed here, the CD Recovery displays a number of statistics, including the file system of partition, a suggestion on its data quality, its size in GB/MB, its system option and amount of matching files and folders.
The CD Recovery will permit you to choose only one partition at most to recover the data. And then, press "Show Files" button. The CD Recovery will launch the "Building Virtual File System" procedure to search the files. You will see file/folder tree soon.
Go to "Working with Found Data" section of this Help manual for further steps.